New: Our advanced online recolour and visualise tool – Try It Now!
By Mette Frydensbjerg Jacobsen
Our user-friendly new tool is quick and simple, completely free of charge and can be used anywhere, at any time.
Developed by you, for you
As an architect, interior designer or creative professional, your imagination is one of your most important personal attributes. It allows you to bring together and envisage the complete look and feel of various decorative elements, enabling you to translate stories, dreams and hopes into evocative interior settings.
Our advanced technology has been developed in conjunction with a team of experts, including some of our most valued customers. The intuitive functionality will enrich your project with even more detail, allowing you to share your ideas with your customers by using our interior room settings, demonstrating the effect of any carpet pattern, colour or texture in a selection of 3D room renders.
As well as personalised room renders, the space illustrations we've developed are extremely detailed and realistic, so much so that we're confident our recolour and visualise tool will become one of the most important assets in your professional toolbox. Explore all of the incredible possibilities on our brand new website at egecarpets.com, tailored to fulfill your needs at every stage of your exploration and research process.
Questions? Bring them on!
Have you ever asked yourself these questions when it comes to the carpet options for your project:
The design is cool, but how will it look in my interior setting?
The colour is beautiful, but does it match the other elements such as upholstery, wallpaper, curtains and art?
Which shade best matches my interior – baby blue, classic blue or electric blue?
Which of these patterns is most suitable for the architecture and space?
These are a few examples, but we're sure you'll find many more ways that our amazing new tool will help you to deliver your project in the most professional and straightforward way. Let's show you how to get started!
Step 1. Design and recolour
We make it easy for you to distinguish between a number of carpet design alternatives, allowing you to change the colours of your favourite design as many times as you like until you find your one and only solution. Due to our advanced production technology, all premade designs from our extensive Highline Express range can be recoloured completely free of charge.
Below: Three beautiful versions of the Wave design including two recolourations created in step 1. Design and recolour.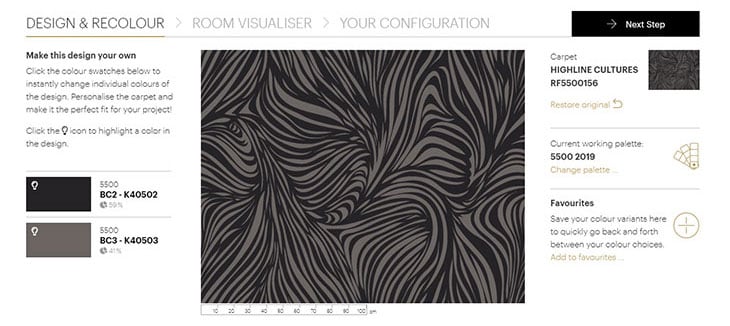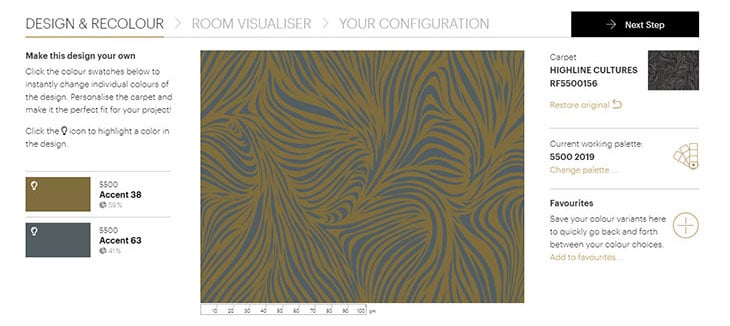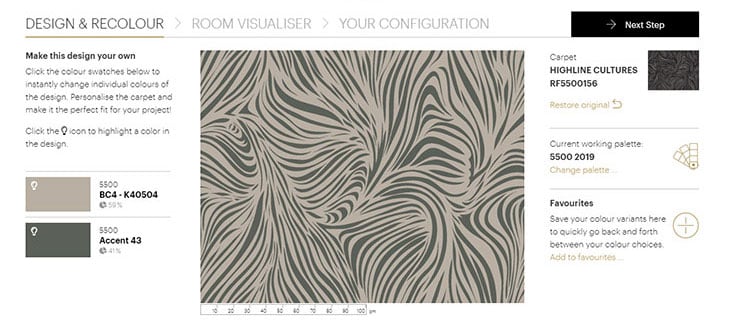 How to?
Pick the design you want to recolour
Open the design and recolour tool
Click a colour swatch – this will instantly change individual colours within the design
For your ease, you can create your own library of favourites to refer to at any time
Please note, we offer four varied Highline colour palettes to choose from, each individual palette representing a unique colour universe that works in a multitude of combinations. You can only combine colours from the same palette.
Step 2. Room visualiser
The room visualiser allows you to preview your favourite designs in no less than 17 different room scenes. These include a reception, hallway, corridor, lounge, restaurant, foyer, hotel room and conference room, among others.
The 3D visualisations are perfect for bringing your ideas to life, making it easier to demonstrate your creative thoughts to your customer. When combined with a physical product sample, this tool makes your decision making process much easier. And the room visualiser can be used with all of our collections.
Below: Two realistic and detailed 3D visualisations created in the education and office room renders in step 2: Room visualiser.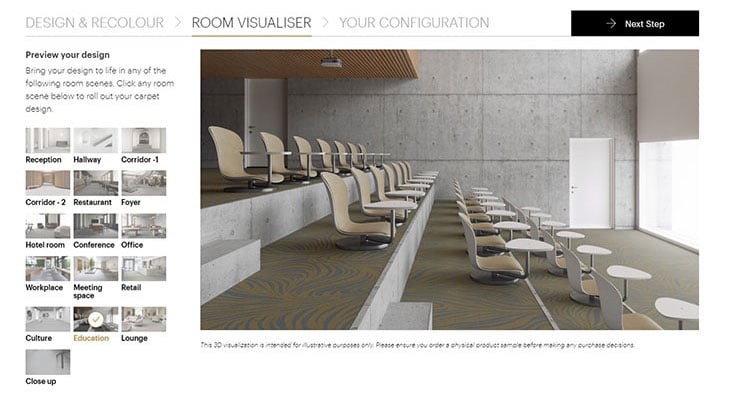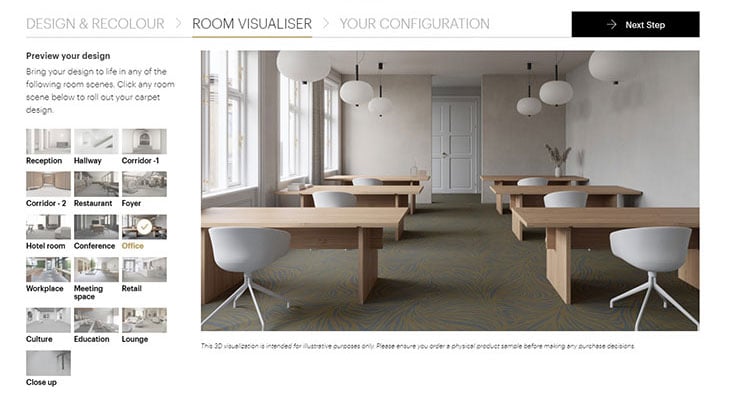 How to?
Browse through the various rooms and click the room scene that will best represent your project
You can also choose a close up of the carpet
Step 3. Your configuration
Once you're happy with your selections, download your very own kit of digital files for your customer presentation – all for free! This includes a PDF of the carpet design specifications, a 3D room visualisation with your chosen design and colours, a tile map of the design plus a tile map of the design overlaid with quality and texture, all suitable for your own 3D renders.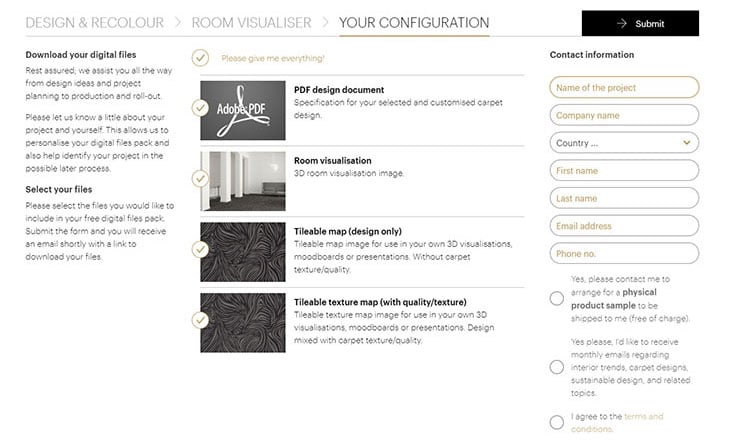 How to?
Depending on your requirements, select the options from the above overview that you'd like to be included in your digital kit, submit the form and voilá: an email is sent to your inbox with your materials ready for immediate download. It couldn't be more straightforward.
We are here to help you all the way
Although the recolour and visualisation tool is a tremendous help with your daily work, we're still here to help you throughout your project. Remember, a physical sample is the best supplement to any visuals, so please do order your free product samples to accompany your presentation. For now, we hope you enjoy our amazing new recolour and visualise tool and if you do have any feedback then please do contact us. Enjoy!